How to integrate the
Smoobu booking system

into your WordPress website | Guide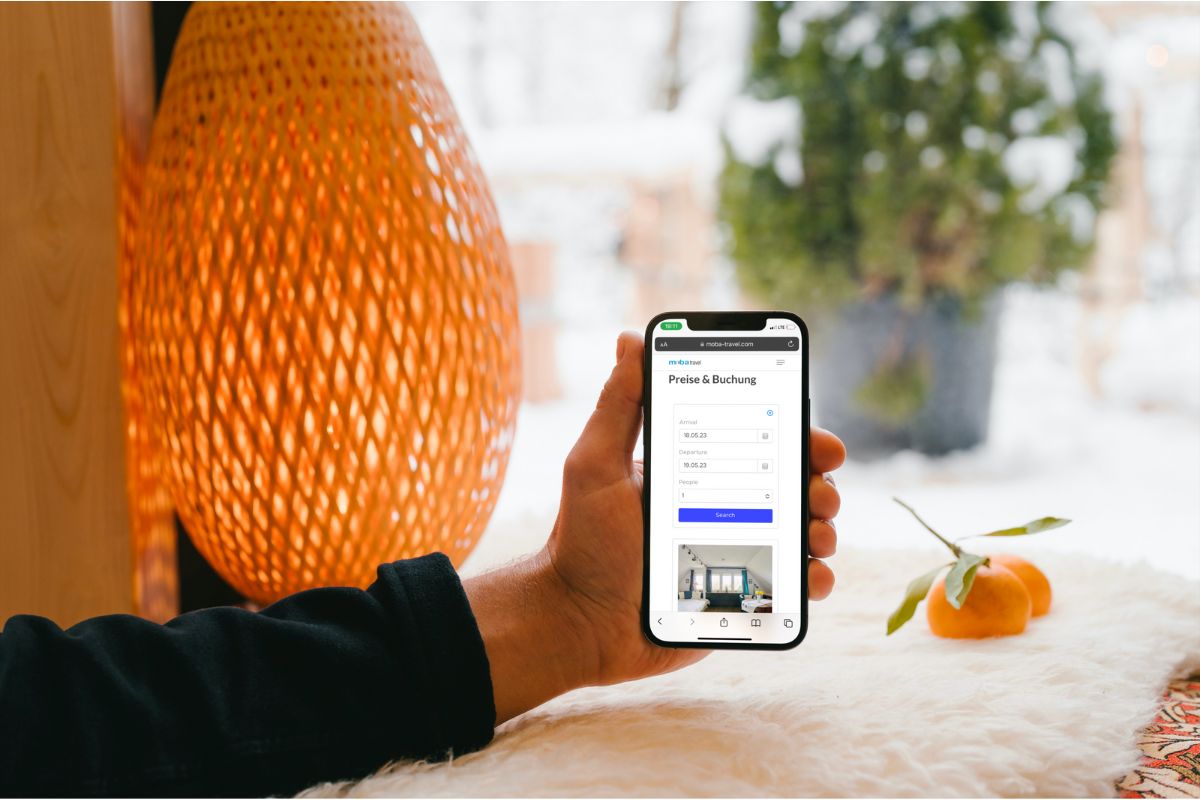 In this step-by-step guide, we'll show you how to integrate your Smoobu booking engine into your WordPress Holiday Rental website.
You'll end up with a user-friendly web presence that offers your guests a smooth booking experience and saves you valuable time.
As a holiday accommodation landlord, it can be very time-consuming to manage booking requests and keep your availability calendar up to date.
Smoobu has created a pretty ingenious solution to this problem. It's basically SaaS (Software as a Service) – a comprehensive holiday accommodation management platform – and offers seamless integration with WordPress so you can present your property's availability to potential guests online.
So much for the intro. Let's get started, shall we?
Log in to your
Smoobu Cockpit
Select
Settings

from the menu on the left-hand side
The "Settings" tab is located in the menu bar on the left.
Scroll down to the
Booking System

tile and click on it.
Here you will find the HTML code templates for integration into your content management system (WordPress, Webflow, Contao, TYPO3 etc.) or your website builder (Squarespace, Wix, Weebly, 1&1 IONOS Website).
Click on the
Embed in website

tab on the top right corner
If you only market one object via Smoobu, you will only see one line here. As we have used an example with several objects, you will see different objects (= different holiday homes or units) here.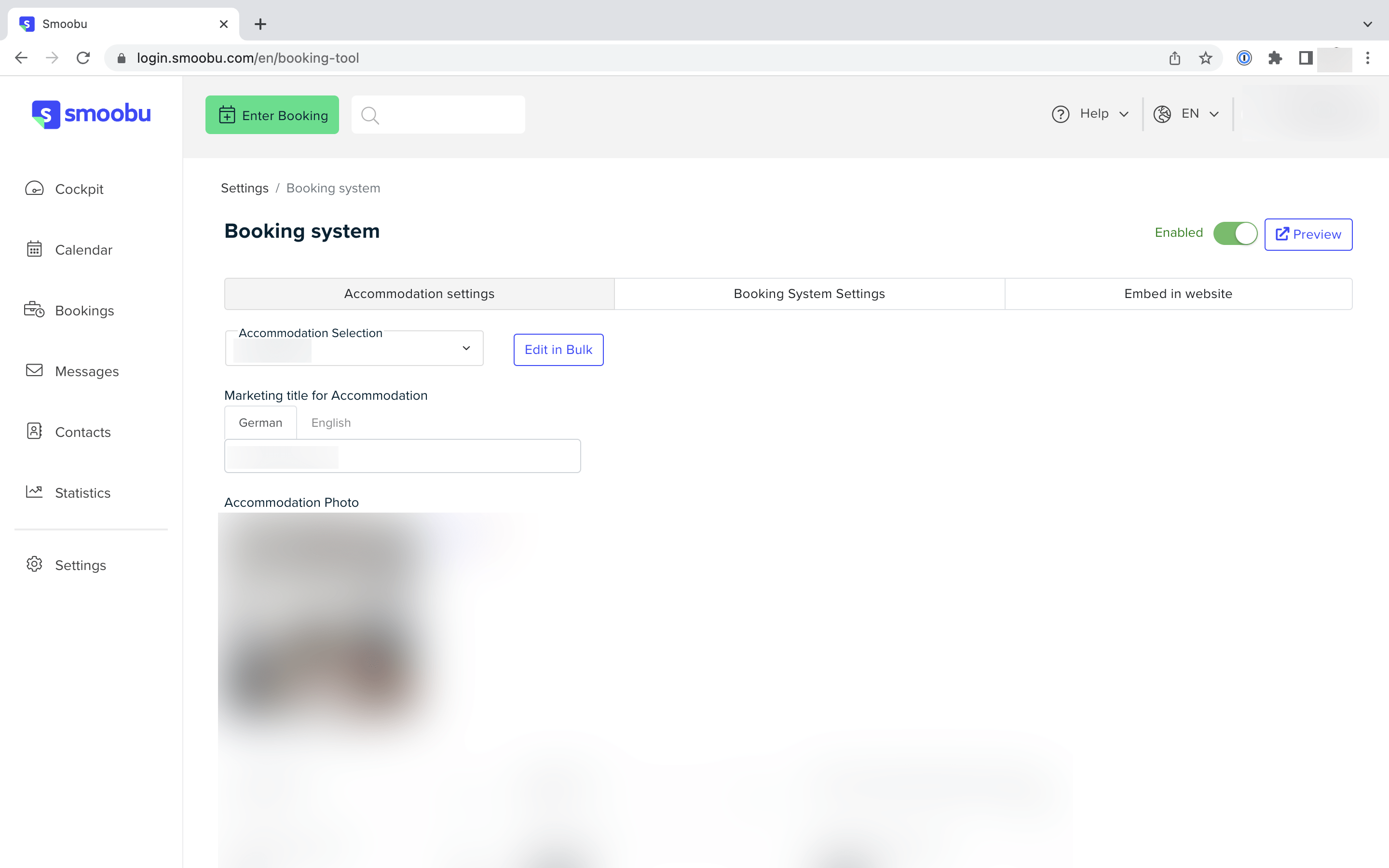 Under the tab
Embed in website

you have two options:
a) All your accommodations – This allows website visitors (= potential guests) to enter their desired dates and number of guests and search for availability in all your accommodations.
b) Select one of your properties – This allows you to add a booking form only for the selected property on the page (useful for a separate sub-page for each property).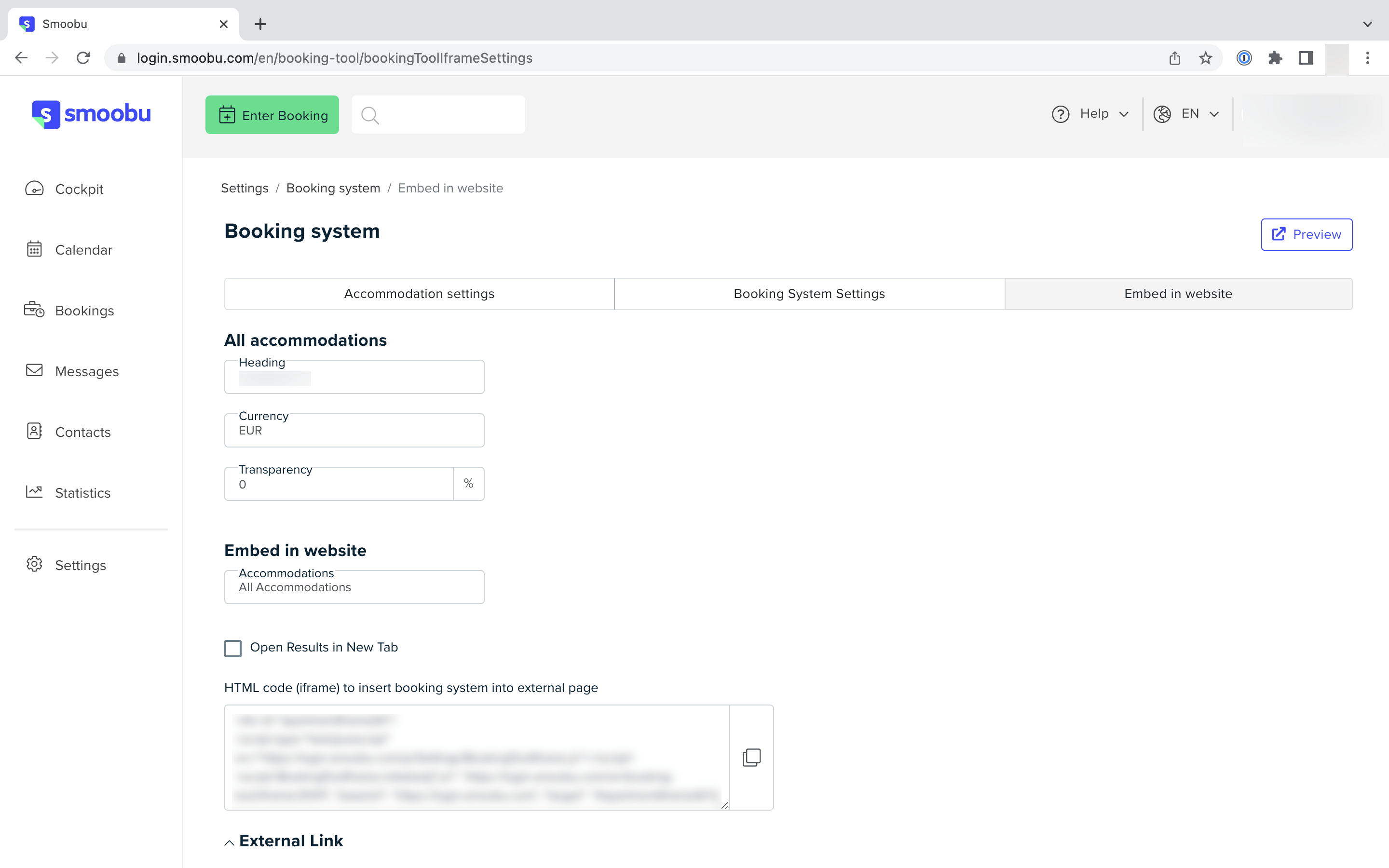 Click on the copy icon next to the code snippet to
copy the code
Since it is HTML code, you have to insert it as such into your website.
For example, you can use the HTML widget in Elementor. If you use DIVI (Elegant Themes), select the Code Widget.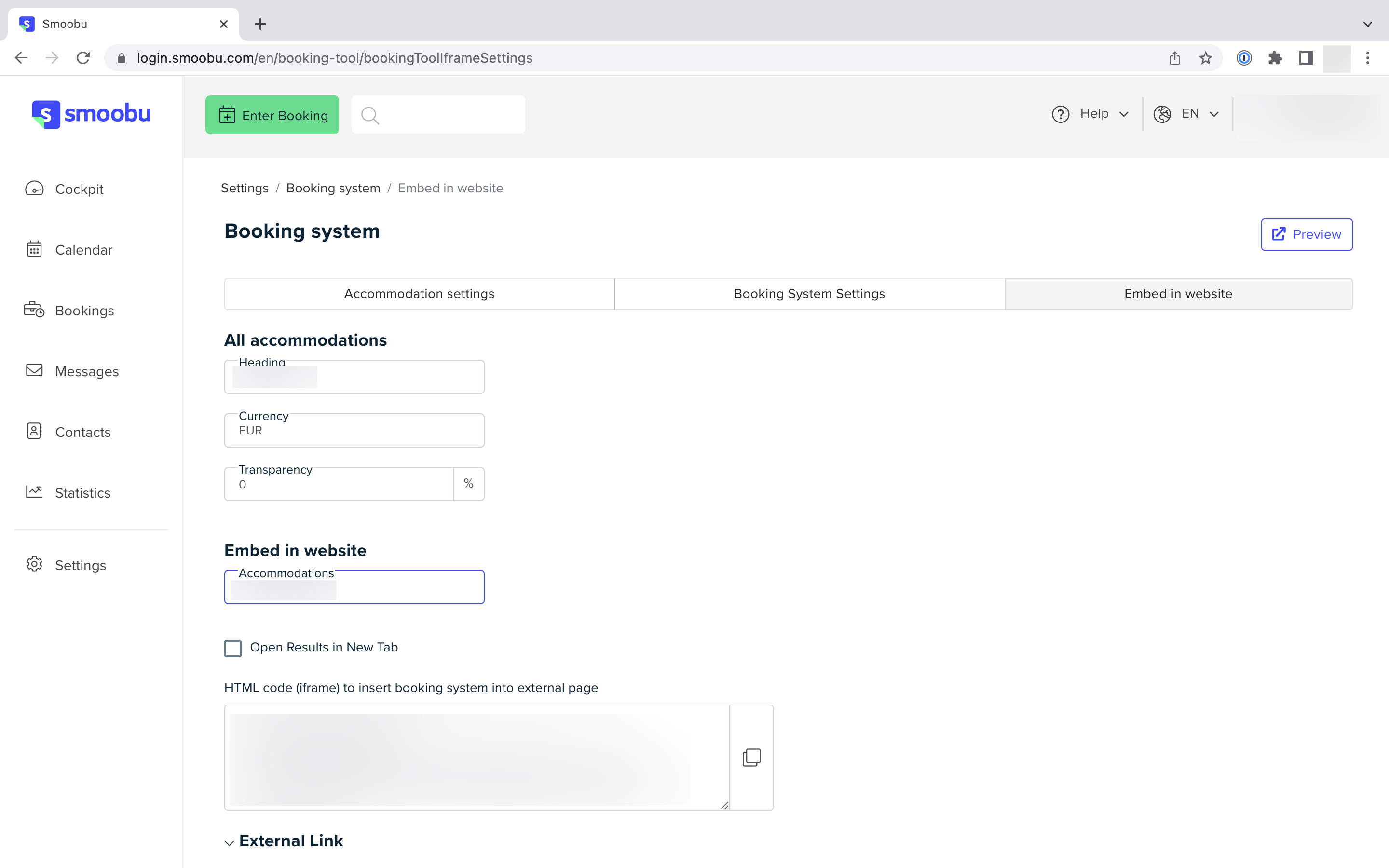 Paste the HTML code

into your website at the desired location.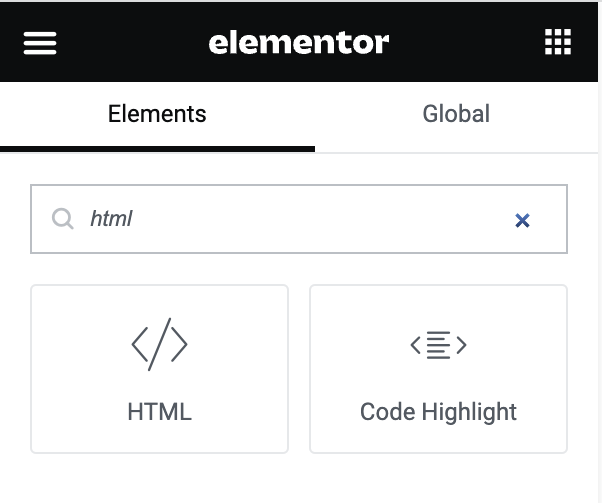 2 example
website examples

with built-in

Smoobu booking system
Example 1:
WordPress website

with Smoobu integration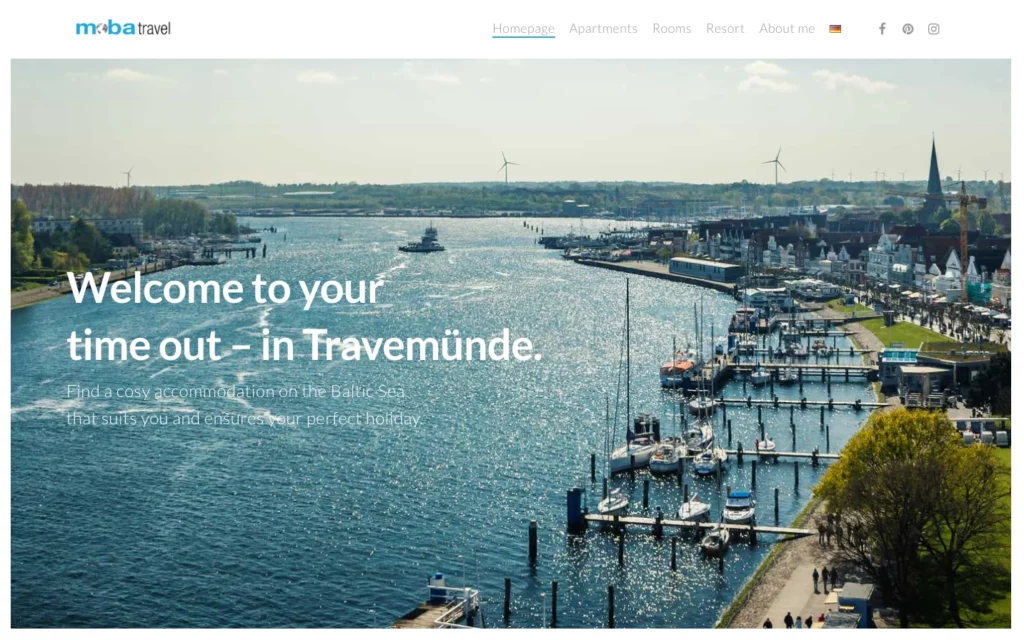 Moba Travel
Website: www.moba-travel.com
Property type: several holiday flats Ferienwohnungen (12 accommodations) 
Location: Travemünde and Priwall (Bay of Lübeck)
CMS: WordPress
Example 2:
1&1 IONOS website

with the Smoobu Booking System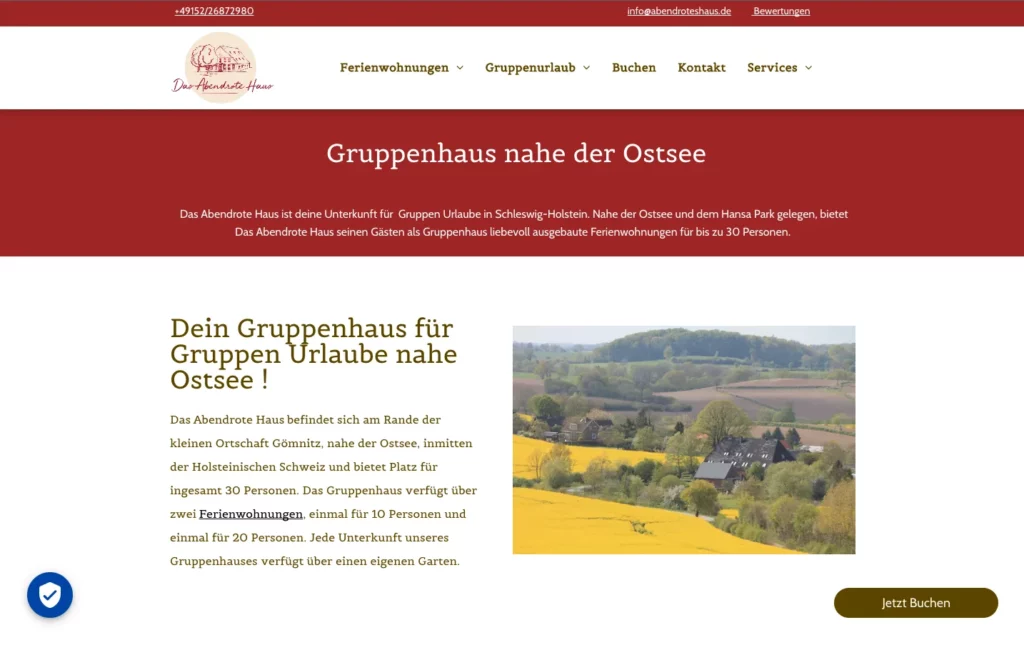 Das Abendrote Haus
Website: www.abendroteshaus.de
Type of accommodation: Group house for 10-30 guests
Location: Northern Germany / on the Baltic Sea
CMS: 1&1 IONOS Website Builder (DUDA CMS)
Hast du noch Fragen? Jetzt kostenlos Termin vereinbaren!